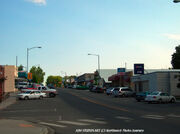 Benton City is a city in Benton County, Washington. The population was 2,624 at the 2000 census. As of 2008, the population was 2,964.
Benton City was founded in 1909 by F. L. Pitman, engineer on the Oregon Washington Railroad and Navigation line. The OWR&N Co. erected freight and passenger depots, and the railway station in Benton City was built about 1910. The station was the brick builidng across from the present vet clinic. Benton City was the early junction point of the Walla Walla, North Yakima line, which was built to help Yakima.
The town site passed into the hands of the Spokane and Eastern Trust Co. as trustees. S. J. Harrison, chief builder of Sunnyside, then organized the Benton Land Co. for handling the town site and adjoining acreage of Benton City. The home of Walter Jacobs was originally the land office and was operated by Percy F. Parker who boarded with the Hartman family. The Hartman family originally built the Conway home on 13th Street.
An extension of the Sunnyside Canal brought water to much of the land in the area in 1947.
The Benton City Hotel, built in the early days of the town, was owned jointly by S. J. Harrison and L. L. Todd. It was a large three-story structure. The Hotel burned in 1926
Petition for Incorporation was filed March 26, 1945, after a vote of 76 to 32, and Benton City was incorporated on July 2, 1945.
In 2002, the Kiona Bridge over the Yakima River at Benton City was added to the National Register of Historic Places.
Geography
Edit
According to the United States Census Bureau, the city has a total area of 1.8 square miles (4.5 km²), of which, 1.7 square miles (4.5 km²) of it is land and 0.57% is water.
Benton City, Washington's climate is warm during summer when temperatures tend to be in the 70's and very cold during winter when temperatures tend to be in the 30's.
The warmest month of the year is July with an average maximum temperature of 87.90 degrees Fahrenheit, while the coldest month of the year is January with an average minimum temperature of 26.00 degrees Fahrenheit.
Temperature variations between night and day tend to be relatively big during summer with a difference that can reach 30 degrees Fahrenheit, and fairly limited during winter with an average difference of 16 degrees Fahrenheit.
The annual average precipitation at Benton City is 7.55 Inches. Rainfall in is fairly evenly distributed throughout the year. The wettest month of the year is November with an average rainfall of 1.07 Inches.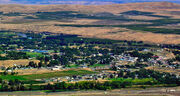 Infrastructure
Edit
the nearest hospital is Kadlec Medical Center in Richland. Prosser's medical center is located nine miles from Benton City.
The Benton City Police Department services the town.
Transportation
Edit
Interstate 82 runs beside the city of Benton City and Kiona.