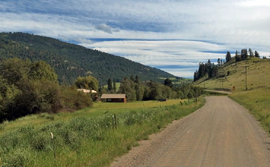 Bolster
 is a ghost town in 
Okanogan County
,
Washington
.
Geography
Edit
Bolster is located about 7 miles north of Chesaw and just a few miles south of the Washington/Canada border.
In 1899, the town was platted by J.S. McBride, who named it for the Spokane financier Herman Bolster.  He sold lots in the new town that attracted several stores, a post office and three saloons. The small town of some thirty families traded with Chesaw, each calling the other a 'suburb'. The town was lucky enough to have a newspaper, The Bolster Drill, but it could not make any money, and eventually went out of business with most of the equipment being sold and sent to Oroville's newspaper. In 1909, the post office closed. There was a school there in 1910, but it only operated that year.
Today the area is rural and agricultural, and very few building remain.  The roads in Bolster are dirt.
Ad blocker interference detected!
Wikia is a free-to-use site that makes money from advertising. We have a modified experience for viewers using ad blockers

Wikia is not accessible if you've made further modifications. Remove the custom ad blocker rule(s) and the page will load as expected.