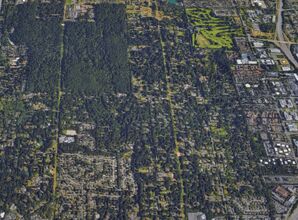 Bridle Trails
is a neighborhood in
Bellevue
,
King County
,
Washington
. The population is around 5,000 as of 2015. Most of Bridle Trails was annexed into
Bellevue
in 1967.
Bridle Trails is a residential area with an equestrian emphasis, with acres of residential property devoted to pastures and trails for horses. While not every family is part of the equestrian culture, all residents enjoy the peaceful ambience here.
Bridle Trails is heavily wooded, with an extensive trail system and predominance of large single-family lots. Nearly two-thirds of the area is covered with second-growth timber, and residents have accepted extra regulation to protect trees on public and private property. Local residents also have taken the initiative to preserve Bridle Trails State Park, a 482-acre preserve with 28 miles of equestrian and pedestrian trails.
While most of Bridle Trails has a quiet, semi-rural appearance with horses grazing in lush green meadows, the area includes a strip of apartments and condominiums along the busy 148th Avenue arterial, and a variety of businesses to the south along Northeast 24th Street and State Route 520.
Bridle Trails State Park has been under state ownership since the 1880s. By the 1930s, the area was popular as a place for horseback riding, and a trail system had been developed by community riding enthusiasts. Concerned about protecting the land, citizens petitioned the state Legislature, which agreed to make Bridle Trails a state park. Most of Bridle Trails was annexed to the city in 1967.
Ad blocker interference detected!
Wikia is a free-to-use site that makes money from advertising. We have a modified experience for viewers using ad blockers

Wikia is not accessible if you've made further modifications. Remove the custom ad blocker rule(s) and the page will load as expected.