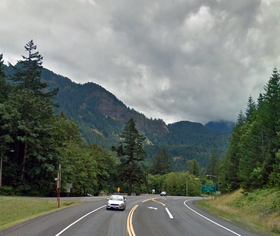 Cascades
was a community in
Skamania County
,
Washington
along the
Columbia River
.
The community served as the county seat of Skamania County and was an important river port for settlers moving into the region. The small community of Cascades received a warning from some Klickitat that a raiding part was coming. The US Army had reinforcements try to meet up with the Indian war party by Hood River, but they did not engage due to being outnumbered by the Indians.
In 1856, Yakama's, Nisqually, Cascade and Klickitat Indian's raided and burned communities along the Columbia River Gorge. Cascades was burned, and only those who safely hid in blockhouses, such as the one at Fort Rains, survived. The Indian raiding party killed everyone except about 25 citizens. The attack took place during the Indian War (1855-1856).
News hit other communities of the attacks by March 26th, 1856. Citizens in Hood River, Oregon went to The Dalles, Oregon for safety. Army soldiers and volunteers came down the river on a ship called the, Mary. They blew their bugle and fired a few cannon shots at the Indian warriors, killed a few. Nine chiefs were hung and the rest were taken as prisoners to Vancouver.
Cascades was mostly washed away by a flood in 1894.
The community was located on the Washington side of the Columbia River near Cascade Locks, Oregon. It would have been located between Fort Rains and Stevenson.
Ad blocker interference detected!
Wikia is a free-to-use site that makes money from advertising. We have a modified experience for viewers using ad blockers

Wikia is not accessible if you've made further modifications. Remove the custom ad blocker rule(s) and the page will load as expected.