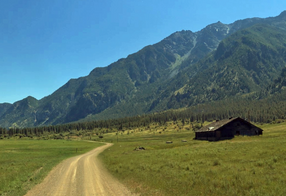 Chopaka
was a community in
Okanogan County
,
Washington
. It can now be considered an area name and ghost town. Chopaka is also the name an unincorporated community across the border in British Columbia.
Geography
Edit
Chopaka is right on the US/Canadian border, about 13 miles north of Loomis and 35 miles west of Oroville. It is also west of Nighthawk and close to Palmer Lake. It is half a mile west from the Similkameen River.
The community was established in 1895 and consisted of homesteads. There is very little known of the community except that today some original wooden buildings still stands scattered throughout the valley.
Today the Chopaka Road leading into Chopaka is still dirt, and continues into Canada, though there is no legal access to Canada following this road. It is very remote and there are no services. The closest entry point into Canada is from Nighthawk, possibly the smallest border crossing in North America.
Ad blocker interference detected!
Wikia is a free-to-use site that makes money from advertising. We have a modified experience for viewers using ad blockers

Wikia is not accessible if you've made further modifications. Remove the custom ad blocker rule(s) and the page will load as expected.