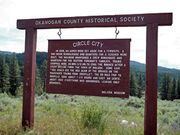 Circle City
or
Circle
, was a community in
Okanogan County
,
Washington
. At it's peak the community had a depot/store and a school. Today nothing remains of the town except for some old railroad ties.
Geography
Edit
Circle City is 2,598 feet above sea level and located between Oroville and Molson.
In 1906, 40 acres were set aside for a townsite and in 1907 Circle City was established on what is now known as Nine Mile Road, close to the ghost town of Nine Mile, which was established in 1906. Circle City got it's name from a loop in the railroad tracks which were nearby. This loop helped trains climb from an elevation of 920 feet to 3,700 feet on their way to Molson. The loop was twenty eight miles long, nearly twice the length of the wagon road to Molson at the time. It took 1 1/2 hours to make the trip and cost .99 cents.
With an average grade of 2.5 percent, trains cooled their brakes in Circle City. They would wait between 20-30 minutes for the brakes to cool. The railroad maintained a crew bunkhouse and quarters for the foreman's families.
Circle City housed an unsuccessful water tank, a depot that sold a few groceries, a section house, and a school. The school was formed in 1907 and a new school house was built in 1912. The school had a peak count of about thirty students and eight grades. The school consolidated in 1932 with Oroville and shut down.
In 1932 the railroad stopped using the line, and it quickly became overgrown. The community quickly faded faded with two fatal blows from both the school shutting down and the railroad leaving. Nothing remains today of Circle City except some old railroad ties and maybe a stray building foundation. A sign is placed where Circle City once stood.
Ad blocker interference detected!
Wikia is a free-to-use site that makes money from advertising. We have a modified experience for viewers using ad blockers

Wikia is not accessible if you've made further modifications. Remove the custom ad blocker rule(s) and the page will load as expected.