Clallam County is a county in Washington. As of 2000, the population was 64,525. The county seat is at Port Angeles, which is also the county's largest city. "Clallam" derives from a Klallam word meaning "the strong people."
Clallam County was formed on April 26, 1854
Clallam County occupies the northern portion of the Olympic Peninsula, extending nearly 100 miles along the Strait of Juan de Fuca on its north and more than 35 miles along the Pacific Coast on its west. On the east and the south it borders Jefferson County, out of which it was created in 1854. The county is composed of the traditional lands of the Klallam (for whom it is named), Makah, and Quileute peoples, who continue to play significant roles in county history. It was one of the first parts of Washington contacted by European explorers in the late 1700s, but did not see permanent settlement until after 1850. Seemingly endless stands of Douglas fir, red cedar, western hemlock, Sitka spruce, and other giant conifers made timber the county's economic mainstay for most of its history. As techniques for felling, transporting, and processing the massive trees improved, much of the forest was cut, although the central wilderness is preserved in Olympic National Park. Forestry remains important, but government and service industries are now the leading employers. Port Angeles has been the county seat since 1890, the year it incorporated. Sequim (1913) and Forks (1945) are the other two incorporated cities in the county, whose total population in 2005 is 66,800.
Geography
Edit
According to the U.S. Census Bureau, the county has a total area of 2,670 square miles (6,916 km²), of which, 1,739 square miles (4,505 km²) of it is land and 931 square miles (2,411 km²) of it (34.86%) is water.
Located in Clallam County is Cape Alava, the westernmost point in both Washington and the continental United States, with a longitude of 124 degrees, 43 minutes and 59 seconds. Also, near Cape Alava is Ozette, the westernmost town in the continental United States.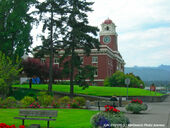 The Clallam County Sheriff's Office services the county.
Census-recognized communities
Edit
Other communities
Edit