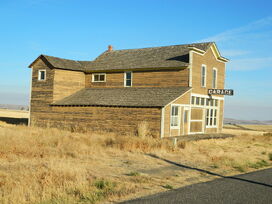 Cloverland
 is an unincorporated community in 
Asotin County
, 
Washington
. Cloverland is 11.5 miles southwest of 
Asotin
.
Cloverland residents originally tried to plant orchards, but lack of irrigation made that plan fail. By 1910, Cloverland had 400 citizens.
The Cloverland Garage was built in 1902. The building served as a store and dance hall until 1918 when the the building became an automotive garage. Fred Walter, the owner of the garage, turned the building into an auto shop, a gas station, and a Chevy / Buick dealership. Walter moved to a farm locally in 1928 and services were less frequent until they ended. The building was added to the National Register of Historic Places on May 2, 1986.
The Barkley Hotel is located across the street, and is now a private residence.
Cloverland used to be on the main road between Wallowa, Oregon and Lewiston, Idaho.
Geography
Edit
To the north is Silcott with Clarkston Heights-Vineland and Clarkston to the northeast. Asotin is to the east and Anatone towards the southeast. Peola is to the west.
Ad blocker interference detected!
Wikia is a free-to-use site that makes money from advertising. We have a modified experience for viewers using ad blockers

Wikia is not accessible if you've made further modifications. Remove the custom ad blocker rule(s) and the page will load as expected.