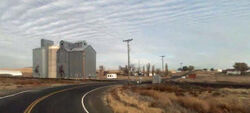 Cunningham is an unincorporated community in Adams County, Washington. Cunningham is north of Hatton and not many miles from Highway 395 that connects the town to Ritzville and Connell.
Geography
Edit
Cunningham is located within the region of Washington known as the Channeled Scablands and is situated on the west slope of the Providence Coulee with the Paradise Flats to the west and the Michigan Prairie to the east. The coulee was utilized by the Northern Pacific Railway for the construction of their main line from Portland, Oregon to Spokane.
West of Cunningham is Othello. North is Providence, Roxboro, and Lind. East is Washtucna. South of Cunningham is Hatton and Connell.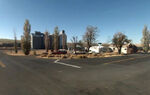 Cunningham's climate is warm during summer when temperatures tend to be in the 70's and very cold during winter when temperatures tend to be in the 30's.
The warmest month of the year is July with an average maximum temperature of 88.60 degrees Fahrenheit, while the coldest month of the year is January with an average minimum temperature of 25.10 degrees Fahrenheit.
Temperature variations between night and day tend to be relatively big during summer with a difference that can reach 34 degrees Fahrenheit, and fairly limited during winter with an average difference of 14 degrees Fahrenheit.
The annual average precipitation at Hatton is 8.66 Inches. Rainfall in is fairly evenly distributed throughout the year. The wettest month of the year is December with an average rainfall of 1.19 Inches.
Infrastructure
Edit
The nearest hospital is in Othello, The Othello Community Hospital.
The Adams County Sheriff's Office serves Cunningham from their office in Othello.