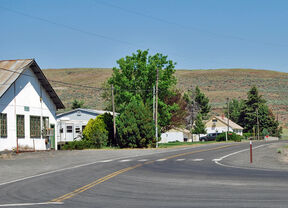 Danville
is a
census-designated place
(CDP) in
Ferry County
,
Washington
, United States. Danville has a post office with ZIP code 99121. The population at the 2010 census was 34.
Geography
Edit
Danville sits at an elevation of 1,745 feet above sea level. Danville is located on Washington State Route 21 near the Canada–United States border, 31 miles north-northeast of Republic. Curlew is south while Laurier is east a mountain range away. West a mountain range away is Toroda. North are the Canadian communities of Almond Gardens and Grand Forks.
Danville was founded in 1899 and took its name from the Danville Mining Company.
Danville was the first town in Ferry County. It was originally known as "Nelson" and was established in 1889 by the Nelson brothers. By 1897 the town had half a dozen businesses and a post office. The town also had the first newspaper in the county, called the Reservation Record. In 1897 the Nelson brothers built a commodious store right on the international boundary, with a north entrance and a south entrance. The north entrance was to serve the Canadian patrons, and the south entrance was for the American patrons. The authorities suspected customs duty evasion and closed the store. In 1901 the Great Northern Railway built through Nelson. The railroad officials had Nelson's name changed to "Danville" to avoid confusion with Nelson in British Columbia. When the mines in the area became depleted, Danville slipped in importance.
By the 1920s some level of prosperity returned to Danville with Prohibition. Danville became a whiskey smugglers' rendezvous. The whiskey smugglers used local guides and old trails to avoid detection by the border authorities. When Prohibition came to an end, Danville went into a state of decline. The town changed as a series of fires also took their toll. It was rumored that Old Man Jennings, the justice of the peace, used to counterfeit half dollars.
Today Danville is mostly residential with a few businesses and a border crossing only a mile to the north.