Entiat is a city in Chelan County, Washington. It is part of the Wenatchee East Wenatchee Metropolitan Statistical Area. The population was 957 at the 2000 census.
Geography
Edit
Entiat is located at the confluence of the Entiat River and Columbia River. This section of the Columbia River is known as Lake Entiat. This is the reservoir formed behind Rocky Reach Dam. The town is situated between the eastern foothills of the Cascade Mountain range, Lake Entiat and the Entiat River.
Entiat is located at 47°40′40″N 120°12′47″W (47.677640, -120.213149).
Entiat's climate is mild to hot during summer when temperatures tend to be in the 70-80's and very cold during winter when temperatures tend to be in the 30's-20's.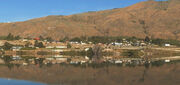 The warmest month of the year is August with an average maximum temperature of 86.30 degrees Fahrenheit, while the coldest month of the year is January with an average minimum temperature of 18.20 degrees Fahrenheit.
Temperature variations between night and day tend to be relatively big during summer with a difference that can reach 35 degrees Fahrenheit, and fairly limited during winter with an average difference of 17 degrees Fahrenheit.
The annual average precipitation at Entiat is 12.99 Inches. Rainfall in is fairly evenly distributed throughout the year. The wettest month of the year is December with an average rainfall of 2.29 Inches.
Entiat was officially incorporated on April 25, 1944. In 1960, Rocky Reach Dam was constructed downriver from Entiat, much of the town had to be relocated to higher ground due to the rising waters behind the dam. Most of the original buildings were razed or moved to a location north of the original town.