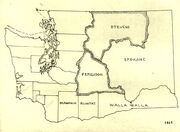 Ferguson County
was a county in Washington State, replaced by
Yakima County
and
Kittitas County
.
On January 23, 1863, the Washington Territorial Legislature establishes the county of Ferguson, more or less in the location of present-day Yakima and Kittitas counties. Ferguson County had few settlers and those settlers who did live there felt no need for county designation. After only two years, the act creating Ferguson County is repealed. 
The county was named in honor of James Leo Ferguson, a member of the house from Skamania County. 
On January 21, 1865, the area that had been Ferguson County became Yakima County, with the exception that the eastern border of the county became the Columbia River from below Wallula to Wenatchee.  In 1883 Kittitas County was carved out of Yakima County.
Geography
Edit
Ferguson County was bounded by the Simcoe Mountains on the south, the Cascade Mountains on the west, Walla Walla and Stevens counties on the east, and the Wenatchee River on the north.