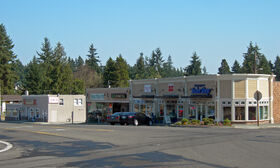 Fircrest
is a city in
Pierce County
,
Washington
, United States. The population was 6,497 at the 2010 census.
Based on per capita income, one of the more reliable measures of affluence, Fircrest ranks 60th of 522 areas in the state of Washington to be ranked.
Fircrest was officially incorporated on September 19, 1925. Like its neighbor University Place, it is a middle-class suburb of Tacoma. The community was developed by Edward Bowes, who later gained fame as the host of the Major Bowes Amateur Hour radio talent show. The town attempted to associate itself with academia by naming a number of its streets after universities (e.g. Princeton, Dartmouth, Yale, Vassar, Stanford) and was originally known as Regents Park in a reference to the regents of a university.
Fircest was the last "dry" municipality in Washington State, prohibiting the sale of alcohol by the glass. Voters chose to allow the sale of alcohol in Fircrest in the 3 November 2015 election.
Geography
Edit
According to the United States Census Bureau, the city has a total area of 1.58 square miles, all of it land. The town sits at an elevation of 276 feet above sea level.
Fircrest is surrounded by University Place to the west and south, and Tacoma from the north, east, and south.
Fircrest is located at 47°13′54″N 122°30′51″W (47.231720, -122.514304).
Ad blocker interference detected!
Wikia is a free-to-use site that makes money from advertising. We have a modified experience for viewers using ad blockers

Wikia is not accessible if you've made further modifications. Remove the custom ad blocker rule(s) and the page will load as expected.