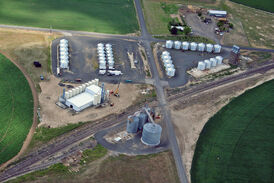 Frischknecht
is a tiny area in
Franklin County
,
Washington
. It is not an incorporated town.
Frischknecht is located at the intersection of Warehouse Road and Paraside Road, northwest of Connell and Schlomer, and southeast of Shano. The settlement is not labeled on maps.
The area is a cluster of elevators and warehouses with a railroad connection for easy transport of farmed goods. The area is owned by Connell Grain, but access is allowed to the public. The surrounding area is agricultural.
Ad blocker interference detected!
Wikia is a free-to-use site that makes money from advertising. We have a modified experience for viewers using ad blockers

Wikia is not accessible if you've made further modifications. Remove the custom ad blocker rule(s) and the page will load as expected.