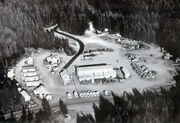 Govey
 or 
Camp Govey
, was a logging site in 
Mason County
,
Washington
. Today nothing remains of the logging camp. There was a reunion on August 14, 2005 for everyone who resided and worked at
Grisdale
or Govey. It is located at the south end of the 
Olympic Mountains
alongside the
Skokomish River
.
Camp Govey was opened by the Simpson Timber Company in 1955 and ran for 30 years before shutting down in 1985. It was named after Arthur B. Govey who worked his way up from a skid-grease to financial vice president in a 50 year career with Simpson Timber Company. It was a commuter camp without homes or bunkhouses, and workers were bused to the site. It was decided that the camp would shut down, and in 1985, the camp closed. Today nothing remains.
Ad blocker interference detected!
Wikia is a free-to-use site that makes money from advertising. We have a modified experience for viewers using ad blockers

Wikia is not accessible if you've made further modifications. Remove the custom ad blocker rule(s) and the page will load as expected.