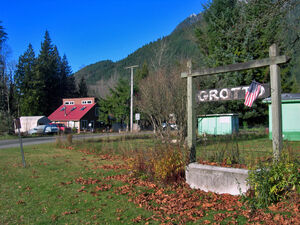 Grotto is a small unicoporated community in King County, Washington. It is located on Highway 2 west of Stevens Pass in the Cascade Mountains, near the town of Skykomish. Grotto sits at an elevation of 892 feet and sits beside the Skykomish River.  The town is 39 miles northwest of Everett.
The community was supposedly named for the numerous gorges in the area.
On March 20, 1926, the King County Sheriff's Office issued a search warrant for liquor at the old Grotto School.  At the time of the raid, the old school house was remodeled into a residence.  Sheriff deputies conducted the raid and found 30 quarts of beer which were quickly disposed of.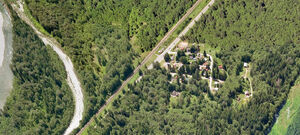 Ad blocker interference detected!
Wikia is a free-to-use site that makes money from advertising. We have a modified experience for viewers using ad blockers

Wikia is not accessible if you've made further modifications. Remove the custom ad blocker rule(s) and the page will load as expected.