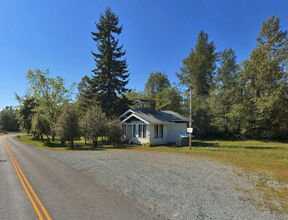 Hoogdal
is a populated place located in
Skagit County
,
Washington
. "Hoogdal" is derived from the original settlers' hometown in Sweden, "Ytterhogdal," by shortening it and adding an "O." 
The elevation of Hoogdal is 302 feet.
Hoogdal was settled by Swedish Immigrants who came from Canada to see the Alaska-Yukon-Pacific Exposition in Seattle. P.O. Ostlund, Jonas Johnson, Hans Hanson and Halvor Pearson, purchased 530 acres of land in 1909 from the Belfast Manufacturing Company. Later a fifth member, who had been residing at Avon for five years, John Grip, a carpenter, joined in on the deal. Today the main road leading in and out of the town is named after Grip. But before that road, there was no road to Hoogdal and children had to hike to school everyday to Belfast.
Hans Hanson built the first house, followed by several others. By 1911, kids walked on a logging road to a new school in Hickson. Groceries were delivered from town to the Woodman Mathews place near the school on certain days, and on these days each boy and girl carried his share back to his home on the hill.
Efforts to secure a school for the settlement resulted in an agreement with the county. Hans Hanson built another house which rented to the county for schooling. Finally Hoogdal students didn't have to hike to school.
The Northern Pacific, to shorten its line, built a cutoff through the settlement, which greatly facilitated the delivery of supplies. Ole Okerstrum's store served as a flag stop for the passenger train.
In 1916, A permanent school and gymnasium were voted on. John Grip furnished the structures himself. The necessary lumber was moved in over the new railroad. This provided a gathering place for the community.
By 1917, a very primitive road was constructed to the settlement.
Today the school is no longer active and there is no store in Hoogdal, as it is mainly residential and agricultural.
Ad blocker interference detected!
Wikia is a free-to-use site that makes money from advertising. We have a modified experience for viewers using ad blockers

Wikia is not accessible if you've made further modifications. Remove the custom ad blocker rule(s) and the page will load as expected.