Hunts Point
is an town in
King County
,
Washington
. As of the 2010 census, the town had a total population of 394.
Prior to European settlement, Hunts Point was a camping ground for the Sammamish Indian tribe. Fishing and hunting was very good from Hunts Point.  When Washington became a state and Seattle grew, the Indians were pushed north and east and finally stopped coming to the area altogether.
Leigh S. J. Hunt, a resident of nearby Yarrow Point, acquired the property of Hunts Point some time after 1870. Hunt, who owned the Seattle Post Intelligencer in the late 1800's, never actually lived on Hunts Point, but he owned property at its very tip. He planned to cut down the tall evergreen trees that grew out at the end, obstructing his view of Lake Washington. He eventually named this peninsula after himself.
Around 1900, the property was taken over by Puget Sound National Bank and sold to a group of Seattle men who used it as a family retreat for Sunday picnics and summer camping.
Before the creation of the two Lake Washington bridges, residents commuted to Seattle via the Gazelle, a small ferry that arrived at Cozy Cove each morning at 7:15.
By 1910, electricity and telephones had come to Hunts Point, and docks now accommodated the ferries.
A clubhouse was built in 1913 at what is now 3655 Hunts Point Road. It became the center of Hunts Point's social activity through the 1920s. Tennis courts were built soon and the Hunts Point Tennis Club was formed.  Elaborate dinner parties, dances and other entertainment were held here over the years to raise the money needed to pay for these improvements.  
In the 1950s, Stan Sayres, owner of the famous Slo Mo unlimited hydroplane, housed the boat at the end of Hunts Point Road.
Hunts Point was officially incorporated on August 22, 1955. In 1960 the first sewers were installed.
In 1963, the Evergreen Point Bridge was completed, making Hunts Points an easy, quick drive to Seattle.
In 1970, the town's population peaked for the first time with 578 residents, because seeing a decline in the 1980s.
The town's population peaked for a second time in 1990 with 513 citizens. The Town of Hunts Point was designated a Tree City in 1992.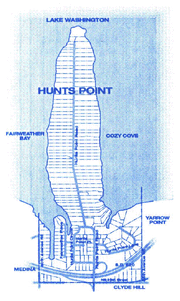 Geography
Edit
Hunts Point is located at 47°38′12″N 122°13′50″W (47.636754, -122.230598).
According to the United States Census Bureau, the town has a total area of 0.30 square miles (0.78 km2), of which, 0.29 square miles (0.75 km2) is land and 0.01 square miles (0.03 km2) is water.
Medina is to the west and south, Clyde Hill to the south, and Yarrow Point to the east. Lake Washington surrounds the north, west, and eastern shores of Hunts Point.
As of 2016, the town of Hunts Point, along with neighboring Yarrow Point, has no agreement with the King County Library System precluding residents from this service.
Ad blocker interference detected!
Wikia is a free-to-use site that makes money from advertising. We have a modified experience for viewers using ad blockers

Wikia is not accessible if you've made further modifications. Remove the custom ad blocker rule(s) and the page will load as expected.