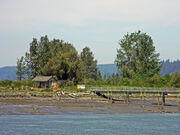 Jetty Island
 is a man-made island and park in the
Everett
,
Snohomish County
,
Washington
. The island is two miles long and half a mile wide, approximately 1,800 acres. During the summer months, a foot ferry becomes operational, allowing access to and from the island via Everett's waterfront.  It is home to one of just a few truly sand beaches in the
Puget Sound
.
There is a ranger booth, tables, a restroom, and snacks on the island as well as at the Port of Everett side of the ferry.  The island has many trails and sandy beaches as well as guest moorage for boats.  It is a popular destination for families, kite fliers, bird watchers, and trail walkers.  It can be accessed year round, but services and ferry runs are only in the summer from early July to Labor Day.
Jetty Island is home to more than 45 bird species including osprey, shorebirds, hawks, eagles, cormorants and ducks. Visitors may see seals surfacing near the waters edge or lounging on the islands shore. On occasion, gray whales can be seen swimming past during spring migration.
Jetty Island began as a riprap jetty to provide a navigation channel and protected harbor in the late 19th century. The island is composed of sediment from the Snohomish River; material that was created by the maintenance dredging of the Snohomish River was used to build the island. The original dredged material was deposited over a 100 years ago and has been added to over time. The Port of Everett gained ownership of Jetty Island in 1929 and, with the help of the U.S. Army Corps of Engineers, built a new marsh of dredged river materials in 1989.
Jetty Island Ferry
Edit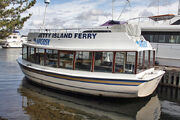 During the summer months, the
Port of Everett
partners with the
City of Everett Parks Department
to provide a ferry that allows access to and from the island, free of cost. The ferry operates seven days a week and departs from the
Port of Everett
's boat launch. 
Ad blocker interference detected!
Wikia is a free-to-use site that makes money from advertising. We have a modified experience for viewers using ad blockers

Wikia is not accessible if you've made further modifications. Remove the custom ad blocker rule(s) and the page will load as expected.