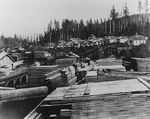 Kerriston
was once town located in
King County
,
Washington
. It was located four miles west of
Cedar Falls
. 
Geography
Edit
Kerriston sits at an elevation 1,260 feet above sea level alongside the Raging River. The geographical coordinates are 47° 27' 18" North, 121° 51' 23" West.
A railroad station called Kerriston, named after president of the Kerry Timber Company, was established in 1900 but was moved six miles in 1904 when the original Kerriston station became known as Hemlock. t was named for A. S. Kerry, president of Kerry Timber Company, which cut timber in the early 1900's. A post office was established in 1903/04. The town's main industry was logging cedar trees and producing bricks. Kerriston bricks were widely used in the early 1900's. The town began to decline in the 1930's before finally being abandoned.
Only some foundations remain today. 
Ad blocker interference detected!
Wikia is a free-to-use site that makes money from advertising. We have a modified experience for viewers using ad blockers

Wikia is not accessible if you've made further modifications. Remove the custom ad blocker rule(s) and the page will load as expected.