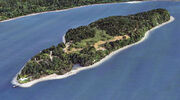 Ketron Island
 is an island and a census-designated place (CDP) in 
Pierce County
, 
Washington
. The island had a population of 24 persons according to the 2000 census, and 17 persons at the 2010 census.  The island has a land area of 0.893 km² (220.67 acres).
Ketron Island is located in southern Puget Sound just off the shoreline from Steilacoom. It lies between the mainland near the city of Steilacoom and Anderson Island near the extreme south end of Puget Sound. The island is accessible by ferry only.  The island is home to a handful of private homes.  
The island was originally named "Kittson Island" by Charles Wilkes during the Wilkes Expedition of 1838-1842, but was misspelled "Ketron" by his cartographers. The island was named for William Kittson, an employee of the Hudson's Bay Company, who supervised the construction of Fort Nisqually in 1833 and served at its chief factor.
Ad blocker interference detected!
Wikia is a free-to-use site that makes money from advertising. We have a modified experience for viewers using ad blockers

Wikia is not accessible if you've made further modifications. Remove the custom ad blocker rule(s) and the page will load as expected.