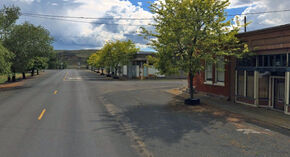 Krupp
 is a town in
Grant County
, Washington, United States. The population was 48 at the 2010 census. Although legally incorporated as Krupp, the town is more commonly known as
Marlin
, which is the name of its post office. Elections are held there under the name of Marlin, Washington, and they are the same locale.
Krupp has the lowest population of any incorporated municipality in Washington.

First settled in 1871 by John Marlin, Krupp incorporated on January 7, 1911.
The name of the post office was changed from Krupp to Marlin during World War I in order to avoid negative associations with a large, well-known munitions plant in Germany. To this day, Krupp is known primarily by the name of its post office, rather than its official name; something of a town "nickname" if you will.
In the summer of 1971 a three-day rock festival, "Sunrise '71," was scheduled to take place immediately south of town, but was shut down by county authorities. It was to be on the scale of Woodstock.
Geography
Edit
Krupp is located at 47°24′32″N 118°59′18″W (47.408752, -118.988203).
According to the United States Census Bureau, the town has a total area of 0.59 square miles (1.53 km2), all of it land.  
Krupp is 76 miles away from Spokane and nearly 150 miles from Seattle. Irby is east, and Wilson Creek to the west. North is Almira and Hanson while south is Moody. Moses Lake is southwest.
Demographics
Edit
The town's population peaked in 1920 with a population of 106.  1990 say the population stand at 53, then in 2000 the population was 60.  2010 sat rge population decline to 48 people.
As of 2010, The median age in the town was 52 years. 12.5% of residents were under the age of 18; 6.4% were between the ages of 18 and 24; 18.8% were from 25 to 44; 29.2% were from 45 to 64; and 33.3% were 65 years of age or older. The gender makeup of the town was 58.3% male and 41.7% female.