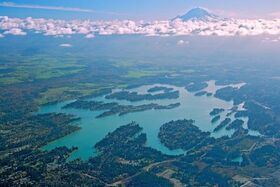 Lake Tapps
 is a reservoir in 
Pierce County
,
Washington
. The community of
Lake Tapps
surrounds the lake.
It was created in 1983 by Puget Sound Energy and operated for hydroelectric power until it ceased power production in 2004. In December 2009 Puget Sound Energy (PSE) sold the lake to the Cascade Water Alliance, a municipal corporation whose members are five cities (Bellevue, Issaquah, Kirkland, Redmond, and Tukwila) and two water districts (Sammamish Plateau Water and Sewer District, and the Skyway Water and Sewer District). Cascade provides water to almost 350,000 residents and more than 20,000 businesses. It plans to eventually use Lake Tapps as a municipal water supply source.
Cascade has signed an agreement with the Lake Tapps homeowners that guarantees full recreational lake levels throughout the summer. It has also signed an agreement with the Muckleshoot Indian Tribe and the Puyallup Tribe of Indians to ensure instream flows for fish.
A diversion dam on the White River, near Buckley, routes water into a flume which empties into the east side of Lake Tapps. On the west side of the lake, water had originally been routed to the Dieringer Powerhouse to generate hydroelectricity, after which the water was returned to the White River, about 20 miles downstream from the diversion dam. Although there is currently no power generation, the water is diverted and returned to the river through the former hydropower infrastructure. The level of the lake is lowered from October to April for maintenance and repairs, flood control purposes and aquatic plant management.
At the diversion dam on the White River is a US Army Corps of Engineers fish trap, which catches salmon migrating upstream. The fish are driven by truck and released upriver of Mud Mountain Dam, which blocks salmon migration. This technique is called a "trap and haul system".
Geography
Edit
The four cities that surround the lake, Auburn, Bonney Lake, Buckley and Sumner, worked with Cascade to ensure their future water needs will be met for about 50 years. Cascade is the operator of Lake Tapps.
Lake Tapps is about 4.5 square miles in surface area and has about 45 miles of shoreline. The local terrain is such that the shape of the shoreline is very complex, with many inlets, peninsulas, and islands. Before the reservoir was created there were several smaller lakes, including one called Lake Tapps. The reservoir is held in place by a series of dikes.
Wildlife
Edit
The lake is also known to hold many fish including carp, smallmouth bass, perch, and tiger musky.
Ad blocker interference detected!
Wikia is a free-to-use site that makes money from advertising. We have a modified experience for viewers using ad blockers

Wikia is not accessible if you've made further modifications. Remove the custom ad blocker rule(s) and the page will load as expected.