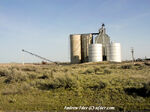 Marcellus is a community in Adams County, Washington. All that is left today in Marcellus is the end of railroad line, a grain elevator, and a few homes.
Location
Marcellus is on North Suko Road, and has an intersection with the west to east cross street of East Griffith Road. There are no businesses in Marcellus. It is surrounded by lush farmland. It is near the community of Packard and the city of Ritzville.
Ad blocker interference detected!
Wikia is a free-to-use site that makes money from advertising. We have a modified experience for viewers using ad blockers

Wikia is not accessible if you've made further modifications. Remove the custom ad blocker rule(s) and the page will load as expected.