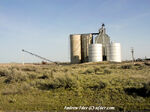 Marcellus is a community in Adams County, Washington. All that is left today in Marcellus is the end of railroad line, a grain elevator, and a few homes.
Geography
Edit
Marcellus is on North Suko Road, and has an intersection with the west to east cross street of East Griffith Road. There are no businesses in Marcellus. It is surrounded by farmland.
Lamona is northwest while Packard and Jantz are west. Tokio and Keystone are east. Ritzville is to the south less then 9 miles away.