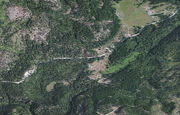 Meteor
is a former mining settlement in
Ferry County
,
Washington
.
Meteor was an active mining camp named after the Meteor Mine.  Records show name as early as 1898, and it may have been the first settlement in southeast Ferry County.
Nothing more then a handful of homesteads and ranches dot the area known as Meteor.  It is located in the Colville Indian Reservation, 5 miles southwest of Inchelium.  
Ad blocker interference detected!
Wikia is a free-to-use site that makes money from advertising. We have a modified experience for viewers using ad blockers

Wikia is not accessible if you've made further modifications. Remove the custom ad blocker rule(s) and the page will load as expected.