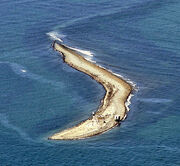 Minor Island
 is an island located in the eastern
Strait of Juan de Fuca
, in
Island County
,
Washington
. It is about mid-way between
Admiralty Inlet
and
Lopez Island
. It is connected to the larger
Smith Island
, to its west, by a low spit that is covered at high tide.
The island has a light and is also the site of a weather station operated by the United States National Oceanic and Atmospheric Administration.
Travel to these islands requires the largest open-water transit in Washington. Their nearest neighbor is Whidbey Island, approximately 5.5 miles away.
Ad blocker interference detected!
Wikia is a free-to-use site that makes money from advertising. We have a modified experience for viewers using ad blockers

Wikia is not accessible if you've made further modifications. Remove the custom ad blocker rule(s) and the page will load as expected.