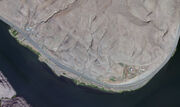 Moses is a populated place located in 
Whitman County
. The community lies upon Wawawai Road, on the north shore of the
Snake River
. It is made up of a few homes, but will mostly be unseen from the main road as the structures sit up on a ledge.
The elevation of Moses is 738 feet. It sits at a latitude of 46.429 and longitude of -117.211.  The community is about ten miles west of Clarkston.
Based on a 1910 map of southern Whitman County, Moses was labeled Moses Station.