Newhalem
 is a small unincorporated community in northwestern 
Washington
, located in the western foothills of the 
Cascade Range
 along the 
Skagit River
. It is located within 
Whatcom County
. It is estimated that about a thousand people live her.
Newhalem is a company town owned by Seattle City Light and populated entirely by employees of the Skagit River Hydroelectric Project, or in local county, state or federal agencies. The town is not open to permanent residents who do not work for these agencies. The Ross Lake National Recreation Area surrounds Newhalem on all sides, and the North Cascades National Park boundary is approximately one mile to the north and south of the town. Newhalem does not have an assigned US Postal Service zip code and thus, for postal purposes, is considered part of Rockport (98283). The name Newhalem has its roots in a local American Indian language as meaning 'Goat Snare'.
Elementary school students come to camp at Newhalem and learn about the ecosystem of the upper Skagit River, the other place being the Upper Baker Dam.
In pre-Colonial times, the site was inhabited by members of the Upper Skagits.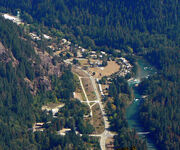 Newhalem has plentiful rainfall year-round, but with significantly less rainfall in the summer months than in winter. According to the Köppen climate classification, Newhalem has an Oceanic climate (Cfb).
Ad blocker interference detected!
Wikia is a free-to-use site that makes money from advertising. We have a modified experience for viewers using ad blockers

Wikia is not accessible if you've made further modifications. Remove the custom ad blocker rule(s) and the page will load as expected.