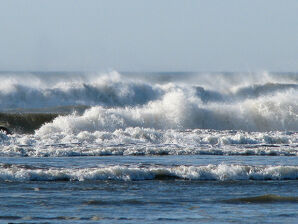 The 
Pacific Ocean
 is the largest of the Earth's oceanic divisions. It extends from the Arctic Ocean in the north to the Southern Ocean (or, depending on definition, to Antarctica) in the south and is bounded by Asia and Australia in the west and the Americas in the east.
At 165.25 million square kilometers (63.8 million square miles) in area, this largest division of the World Ocean—and, in turn, the hydrosphere—covers about 46% of the Earth's water surface and about one-third of its total surface area, making it larger than all of the Earth's land area combined.
The Pacific Ocean borders Washington's western coast, and transforms the landscape from windswept beaches, to rocky outcroppings and cliffsides.
Ad blocker interference detected!
Wikia is a free-to-use site that makes money from advertising. We have a modified experience for viewers using ad blockers

Wikia is not accessible if you've made further modifications. Remove the custom ad blocker rule(s) and the page will load as expected.