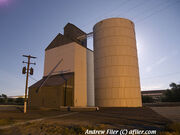 Paha is a community in Adams County, Washington. The community center is located on the intersection of Paha Packard Road, and North Dewald Road.
Established December 4, 1886. Post office was discontinued on December 18, 1943. The Walla Walla Union of July 17, 1880 listed a "new railroad town" as laid out at Providence Springs (Paha Creek today). At that time this are was within the Whitman County limits. The original plat was made, but vacated and the town was replatted on Feb 25, 1889.
Over time, the town slowly disappeared to which not much remains today.
Geography
Edit
The town is located about mid way between Lind and Ritzville. It is within a small valley which is surrounded by farmland. It is located slightly west of the Channeled Scablands.
The town is a mix of homes and an old grain elevator. Across the traintracks from the town is U.S. Route 395. There are on and off ramps to the highway which connects the community to towns south (Lind) and to the north (Ritzville). Paha is surrounded by trees and sits at the base of a hill.