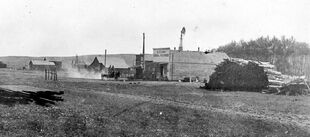 Pampa
is an unincoporated community in
Whitman County
,
Washington
.
The elevation of Pampa is 1,362 feet.
The coordinates are latitude 46.777 and longitude -117.954.
The Columbia and Palouse Railroad Company's line ran through Pampa in 1883, and a small town grew. The town grew large enough for a post office by 1884, and continued in operation until 1912. The post office, railroad station and general store all lay on Front Street, with the school on South and 3rd.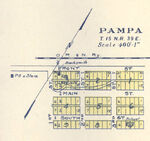 Many hypotheses have been given regarding the origin of the Pampa name. Some suggest that it refers to the pampas-like grass of the region. Others guess that someone (perhaps David S. Bowman, a southerner who arrived in 1883) named the town in honor of Pampa, Texas or Pampa, Tennessee.
Today only some silo's and a few residences exist.
Geography
Edit
Gordon and Hooper are west of Pampa. LaCrosse is northeast. Southeast is Jerita and Shreck. Hay is south.