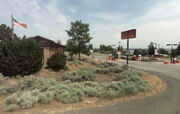 Paterson is an unincorporated community in Benton County, Washington, located on the northern banks of the Columbia River at the junction of Washington State Route 14 and Washington State Route 221
Geography
Edit
Paterson sits at the edge of farmlands, and is next to the Columbia River. It is west of Plymouth, and across from Irrigon, Oregon, roughly.
The community of Paterson is a small cluster of homes, with some old business's, most of which are no longer in business. They sit along the town's main corridor, Kent Road, also known as Washington State Route 221. Prior Avenue is the main raod through the residential cluster. There is a school in Paterson. Most shopping is either done in Kennewick or the Oregon cities of Hermiston or Umatilla.
Paterson is home to the Columbia Crest Winery, one of the premier wineries in Washington State. The Columbia Crest Winery can be found on Highway 221, Columbia Crest Drive, Paterson, WA 99345.
Infrastructure
Edit
The Benton County Sheriff's Department provides Paterson with services.