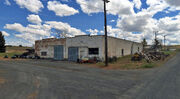 Pine City
is a community in
Whitman County
,
Washington
.
It is estimated less then 100 people live in Pine City.
Pine City was named for the large number of pine trees in the area. It is located on Pine Creek and was established as a stage station on the Texas Ferry Road from Walla Walla to Colville. Earlier it was an old Indian road known as Texas (Texsas) Trail. Dr. Dodson platted the town of Pine City in about 1878-1881. At one time a stockade was built as protection in case of an Indian attack. No attack occurred and was taken down in later years. 
The Chicago, Milwaukee, St. Paul and Pacific Railroad mainline served Pine City from 1909 until 1980. 

As of 2016, there are no businesses in Pine City except the silo's in operation.
Geography
Edit
The elevation of Pine City is 2,051 feet. It's coordinates are latitude 47.202 and longitude -117.524. The town is south of Malden.
This region experiences warm (but not hot) and dry summers, with no average monthly temperatures above 71.6 °F. According to the Köppen Climate Classification system, Pine City has a warm-summer Mediterranean climate, abbreviated "Csb" on climate maps.
Pine City is in the semi-arid virtual desert area of Washington south of Spokane. The summers are long and hot each year well over 100. The nights get cool/cold (which could account for the lower 'average' temperature). The winter months will often drop to the low 10's with a week or two dropping below 0.