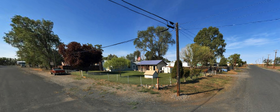 Plymouth
is an unincorporated community in
Benton County
, Washington. Plymouth is located on the north side of the
Columbia River
across from Umatilla, Oregon. It is south of the Tri-Cities and is served by Interstate 82. The McNary Dam is just east of Plymouth.
Tragedy and old west traditions are Plymouth's legacy. In 1878 Plymouth was the site of the Bannock-Paiute War, the last war between Native people and settlers. In the 1870's the Switzler Brothers raised 15,000 head of horses here and in Horse Heaven Hills.
Geography
Edit
The community is 292 feet above sea level.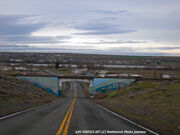 Upon entering Plymouth along the Plymouth Road, one must go under a painted train trestle which has become a community landmark. The town's core is along 3rd Street, which is were the post office, and only businesses are. Plymouth Park is a large "island" that is connected by road. It is south of the town along the Columbia River. The park has a boat launch and area's of reacreation. Most shopping in Plymouth is done in nearby cities like Kennewick or Umatilla and Pendleton, Oregon.
Infrastructure
Edit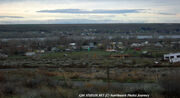 The Benton County Sheriff's Office services the community.
Transportation
Edit
Interstate 82 runs beside the town, and connects it to Oregon, and bigger cities like Kennewick and Richland.