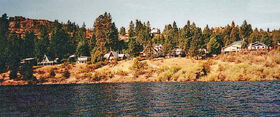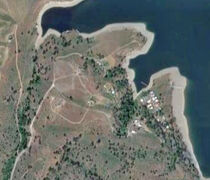 Rantz
, or
Rantz Marina
,
is a tiny community in
Lincoln County
,
Washington
. It is located next to Wynhoff Canyon, and can be accessed by boat or Martin Canyon Road. The address to the community would be listed as part of
Wilbur
.
The community is located along the Columbia River, and has just a small handful of homes. The main roads in town are Rantz Park Lane N, Brougher Lane E, and Friedlander Lane E. A small cover is in the center of the community, as well as a dock and beach. The community has no services or businesses and is not actually named on maps. Locals may call it by a different name then Rantz, since it is given a Wilbur address.
Geography
Edit
Hanson Harbor is to the west, the Columbia River to the north and east, and Sherman, Wilbur, and Creston to the south. The coordinates are, 47.916066, -118.550672.
Ad blocker interference detected!
Wikia is a free-to-use site that makes money from advertising. We have a modified experience for viewers using ad blockers

Wikia is not accessible if you've made further modifications. Remove the custom ad blocker rule(s) and the page will load as expected.