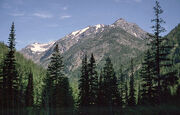 Robinson Mountain is a mountain locationed in the
Cascade Range
,
Okanogon County
,
Washington
.
It is the 35th highest peak in Washington State standing at 8,726ft.  It was named after brothers James and Thomas Robinson who stayed in a cabin on Robinson Creek during the winter in 1887. The first ascent took place in 1904 by a USGS party led by Edward C. Barnard.
Ad blocker interference detected!
Wikia is a free-to-use site that makes money from advertising. We have a modified experience for viewers using ad blockers

Wikia is not accessible if you've made further modifications. Remove the custom ad blocker rule(s) and the page will load as expected.