Rock Island is a city in Douglas County, Washington. It is part of the Wenatchee–East Wenatchee Metropolitan Statistical Area. The population was 863 at the 2000 census. Rock Island is seven miles from Wenatchee, 103 miles from Seattle, and 128 miles from Spokane.
Rock Island was officially incorporated on December 8, 1930. The site had been previously settled in the late 19th Century and was known as Hammond. The site was thought to be the area where the large city of the area would develop as it was located near the Rock Island Rapids and near the bridge which spanned the Columbia River for the Great Northern Railway. Despite the strategic advantages therein, the large city of the area would become Wenatchee, just seven miles upriver from the site of present-day Rock Island. The nearby Rock Island Rapids would become the site of the first hydroelectric dam on the Columbia River and spur growth in the tiny hamlet. During World War II a silicon smelter was built in the town of Rock Island but closed in 1999.
Geography
Edit
According to the United States Census Bureau, the city has a total area of 0.6 square miles (1.6 km²), of which, 0.6 square miles (1.5 km²) of it is land and 0.04 square miles (0.1 km²) of it (6.35%) is water.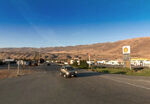 Rock Island, WA climate is warm during summer when temperatures tend to be in the 70's and very cold during winter when temperatures tend to be in the 30's.
The warmest month of the year is July with an average maximum temperature of 86.70 degrees Fahrenheit, while the coldest month of the year is January with an average minimum temperature of 21.80 degrees Fahrenheit.
Temperature variations between night and day tend to be moderate during summer with a difference that can reach 27 degrees Fahrenheit, and fairly limited during winter with an average difference of 14 degrees Fahrenheit.
The annual average precipitation at Rock Island is 8.51 Inches. Rainfall in is fairly evenly distributed throughout the year. The wettest month of the year is December with an average rainfall of 1.43 Inches.