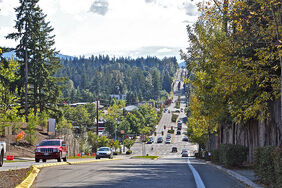 Sammamish
is a city in
King County
,
Washington
. The population was 52,253 in a 2015 census estimate.
The Sammamish Plateau was part of unincorporated King County for most of its recorded history. The first Europeans arrived in the late 19th century and established a trio of resorts by the 1930s. The plateau remained a mostly rural area until suburban homes, shopping centers, and schools were built in the 1970s and 1980s. A vote in 1991 to join neighboring Issaquah failed, as did a vote on incorporation the following year. A renewed movement to become a city, born of frustration with development policies set by the county government, met with voter approval in 1998. Sammamish was officially incorporated on August 31, 1999. Sammamish annexed Klahanie on January 1, 2016, raising the population to about 61,000.
Geography
Edit
Located on a plateau, the city is bordered by Lake Sammamish to the west and the Snoqualmie Valley to the east. Issaquah is located south and Redmond to the northwest.
According to the United States Census Bureau, the city has a total area of 18.47 square miles (47.84 km2), of which, 18.22 square miles (47.19 km2) is land and 0.25 square miles (0.65 km2) is water.
The city is situated on the shores and hilly terrain east of Lake Sammamish. Beaver Lake and Pine Lake are the two biggest lakes in Sammamish.
Sammamish has a mild Marine West Coast or oceanic climate.
Government
Edit
The Sammamish City Council is elected by the community. Of the seven council members, two members are elected as Mayor and Deputy Mayor. Council meetings are held at City Hall, part of the Sammamish Commons, which is also the site of Sammamish Library, a branch of the King County Library System.
Sammamish does not have its own post office. Eastside Fire and Rescue is contracted to provides fire services. Sammamish contracts with the King County Sheriff's Office for police services. Deputies assigned to Sammamish wear city uniforms and drive patrol cars marked with the city logo.
Transportation
Edit
Sammamish does not have freeways within its city limits. SR-520 to the north is accessed via Redmond. I-90 to the south is accessed via Issaquah. I-605 was proposed in 1968 to run through Sammamish but was not realized.
Ad blocker interference detected!
Wikia is a free-to-use site that makes money from advertising. We have a modified experience for viewers using ad blockers

Wikia is not accessible if you've made further modifications. Remove the custom ad blocker rule(s) and the page will load as expected.