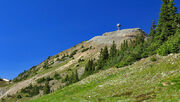 Slate Peak is located in
Whatcom County
and
Okanogan County
, Washington. It is near the ghost town of
Barron
. The peak elevation is 7,440 feet.
Slate Peak is home to the highest road in elevation in Washington as well as the highest fire lookout tower by elevation. A road was constructed during the 1950's as part of a defense project for the "Cold War", even though the Pacific Crest Trail passes near the summit. The original lookout hut was placed on the ground. Along with the construction of the road, 41 feet was blasted off the summit of Slate Peak to make a wide, flat platform for a radar installation. The height of the current lookout was built to 41 feet in 1956 to restore the original view.
Ad blocker interference detected!
Wikia is a free-to-use site that makes money from advertising. We have a modified experience for viewers using ad blockers

Wikia is not accessible if you've made further modifications. Remove the custom ad blocker rule(s) and the page will load as expected.