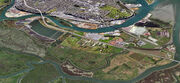 Smith Island
is located in
Snohomish County
, just east of
Everett
, in
Washington State
. The island is within the
Snohomish River
delta that flows out into
Possession Sound
. Smith Island was logged, farmed, and homesteaded in the early 20th Century. Dikes were erected to protect the farmland from saltwater during high tide. Smith Island is separated from the mainland.
The island is mainly agricultural and industrial and separates Everett from Marysville.
Smith Island is within the Snohomish River estuary near Everett. The site is bounded by Union Slough and Spencer Island to the east and north, Interstate 5 to the west, and Everett's wastewater treatment plant to the south. 
The Everett Parks and Recreation Department operates Langus Riverfront Park. As well, the paved 2.25 mile Smith Island Trail can be walked as it follows along the Snohomish River.
Ad blocker interference detected!
Wikia is a free-to-use site that makes money from advertising. We have a modified experience for viewers using ad blockers

Wikia is not accessible if you've made further modifications. Remove the custom ad blocker rule(s) and the page will load as expected.