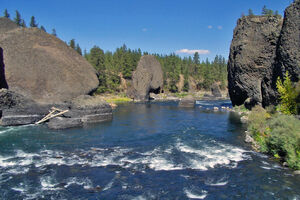 The 
Spokane River
 is a tributary of the 
Columbia River
, approximately 111 miles long, in northern Idaho and eastern 
Washington
 in the United States. It drains a low mountainous area east of the
Columbia
, passing through the city of 
Spokane
.
River Route
Edit
The Spokane River drains the northern part of Lake Coeur d'Alene in the Idaho Panhandle, emptying into the Columbia River at Franklin D. Roosevelt Lake, approximately 111 miles downstream.
From Lake Coeur d'Alene, the Spokane River traverses the Rathdrum Prairie until reaching Post Falls, Idaho where it passes over a dam, and a natural 40-foot waterfall. Continuing westward it passes over 6 more dams, three of which (Upriver Dam, Upper Falls Dam, Monroe Street Dam) are located in the city of Spokane. In Spokane, it flows over the Spokane Falls, which are located in the heart of Downtown Spokane, approximately one third of the way down the river's length. About a mile later, the river receives Latah Creek from the southeast. Soon afterwards, it is met from the northeast by the Little Spokane River, on the western edge of the city of Spokane. It flows in a zigzag course along the southern edge of the Selkirk Mountains, forming the southern boundary of the Spokane Indian Reservation, where it is impounded by the Long Lake Dam to form Long Lake, a 15 mi reservoir. It joins Franklin D. Roosevelt Lake on the Columbia from the east at Miles. The site of historic Fort Spokane is located at the confluence of the Spokane and Columbia rivers.
The Spokane River's entire drainage basin is about 6,240 square miles large, of which 3,840 square miles are above Post Falls Dam at the outlet of Coeur d'Alene Lake. Its mean annual discharge is 7,946 cubic feet per second
Ad blocker interference detected!
Wikia is a free-to-use site that makes money from advertising. We have a modified experience for viewers using ad blockers

Wikia is not accessible if you've made further modifications. Remove the custom ad blocker rule(s) and the page will load as expected.