Spring Glen is a community in King County, Washington. It is directly east of Fall City. It is a rural residential and agricultural community located on both sides of SR 202.
A few businesses exist in the community as well as lavender farms, and some churches. It is also home to the Fall City Airport.
Geography
Edit
Fall City is located west of Spring Glen. Tokul is to the east and Snoqualmie to the south.
The climate in this area has mild differences between highs and lows, and there is adequate rainfall year-round. According to the Köppen Climate Classification system, Fall City has a marine west coast climate, abbreviated "Cfb" on climate maps.
Transportation
Edit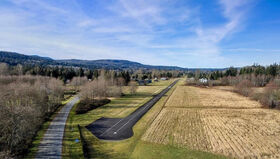 According to the Federal Aviation Administration, the Fall City Airport is a small private airport community located roughly 2 miles to the east of Fall City in Spring Glen at Latitude: 47-33-34.366 N & Longitude: 121-51-49.413 W. at an elevation of 140 feet (42.5 m). The airport is owned by the Fall City Airport Association. It has no traffic control tower.
Ad blocker interference detected!
Wikia is a free-to-use site that makes money from advertising. We have a modified experience for viewers using ad blockers

Wikia is not accessible if you've made further modifications. Remove the custom ad blocker rule(s) and the page will load as expected.