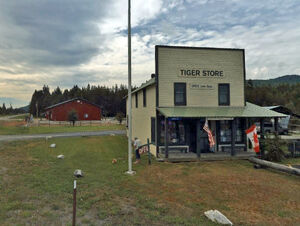 Tiger
 is an unincorporated community in 
Pend Oreille County
, 
Washington
. Named for early settler George Tiger, Tiger is located near Washington State Route 31 3.5 miles south of 
Ione
, north of
Blueslide
, and on the western shore of the
Pend Oreille River
.
The area is mostly all residential except for the general store.  
Tiger was established in 1899 when George Tiger set up a river landing in the area. A ferry service was run from Tiger to the eastern shore of the Pend Oreille River. It was one of several ferry crossings. In 1906, the Tiger Post Office was established. Mail was delivered by steamboat until October 1909. The post office was moved after the railroad was built. Mr. Emanuel F. Yoder was the first postmaster followed by Flora Cross. Over the years the post office has changed and today is known as the Cross Building and is the Tiger Museum and general store.
The Tiger School built 1910 and was located north of the Tiger post office on highway 31. The site was given by Mr. Tiger with the purpose being that of a school or community center only. 
Ad blocker interference detected!
Wikia is a free-to-use site that makes money from advertising. We have a modified experience for viewers using ad blockers

Wikia is not accessible if you've made further modifications. Remove the custom ad blocker rule(s) and the page will load as expected.