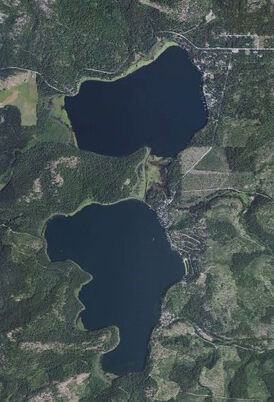 Twin Lakes
is a census-designated place in
Ferry County
,
Washington
. The area is mostly residential with a few businesses and is a popular regional destination spot for vacation and outdoor recreation. As of the 2010 census, 59 people permanently lived in Twin Lakes. The population varies at different times of the year.
Within the Twin Lakes CDP are the two lakes of North Twin Lake and South Twin Lake. The western shore of both lakes is mostly forested, and development is mainly on the eastern shore of both lakes.
Geography
Edit
The coordinates of Twin Lakes is Latitude: 48.2873409°N and Longitude: -118.3813739°W. The community sits at an elevation of 2,575 feet above sea level. The community makes up 4.2 square miles of land.
Meteor, Impach, and Inchelium are east of Twin Lakes. It is exactly 8 miles to Inchelium. To the north is mainly forested mountains as well as to the south and west. Bridge Creek Road continues west across Gold Mountain Ridge. It is 22 miles to Washington State Route 21 in the Sanpoil River Valley.
Ad blocker interference detected!
Wikia is a free-to-use site that makes money from advertising. We have a modified experience for viewers using ad blockers

Wikia is not accessible if you've made further modifications. Remove the custom ad blocker rule(s) and the page will load as expected.