Twin Sisters Mountain, commonly called the Twin Sisters, is a mountain in Whatcom County. Part of the Cascade Range, it lies just southwest of Mount Baker. Of its two main peaks, South Twin is higher, at 6,940 feet. North Twin is 6,660 feet high. There are several glaciers on the northeast slopes of Twin Sisters Mountain.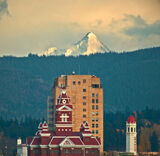 Both of the summits are located within Mount Baker Wilderness. Twin Sisters Mountain as a whole is located southwest of Mount Baker, separated from the volcano by the Middle Fork of the Nooksack River. The South Fork Nooksack River flows around the eastern end of Twin Sisters Mountain. Other streams that drain Twin Sisters Mountain include Skookum Creek, Sister Creek, Green Creek, and Howard Creek. All the streams eventually end up in the Nooksack River.
Ad blocker interference detected!
Wikia is a free-to-use site that makes money from advertising. We have a modified experience for viewers using ad blockers

Wikia is not accessible if you've made further modifications. Remove the custom ad blocker rule(s) and the page will load as expected.