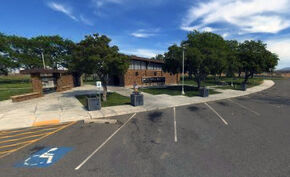 Vernita
is an area along Washington State Route 24 that spans between
Grant
and
Benton Counties
,
Washington
.  The
Vernita Bridge
is located here and spans the
Columbia River
connecting
Grant County
and 
Benton County
.   
Geography
Edit
North of Vernita by about 10 miles is Desert Aire and Mattawa. Former towns like Audrey, Susie, Nancy, and White Bluffs, are to the east in the Hanford Site. Over a ridge and Gravity Hill you finally come to I-82 with Whitstran, North Prosser, and Prosser. West is Moxee and Yakima.
This area is a broad desert flat, and is the last area in Washington that the Columbia River runs free without a dam. It runs 51 miles unobstructed.
A ferry operated at Vernita before the bridge was constructed. Sheep numbered in the thousands here thanks to sheep farmers. When the state took over the ferry operation, they didn't like the mess the sheep left on the ferry boat when they had to cross. When the sheep herders protested the state, the highway commission reversed previous requirements that forced the sheep herders to use trucks to cross on the ferry. Sheep herders were free to use the ferry again without trucks until the bridge was built.
Today, Vernita is scrubland with no community. There is a rest area at the southern shore of the Columbia River. Vernita's southern border is all part of the Handford Site.
Ad blocker interference detected!
Wikia is a free-to-use site that makes money from advertising. We have a modified experience for viewers using ad blockers

Wikia is not accessible if you've made further modifications. Remove the custom ad blocker rule(s) and the page will load as expected.