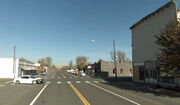 Washtucna is a town in Adams County, Washington. The population was 260 at the 2000 census. As of 2008, the population was 262. The town was named for a lake 12 miles from the town in Franklin County which was in turn named after a Palouse Indian chief. Washtucna is 75 miles from Spokane and 32 miles from Othello.
George Bassett, an Iowan settler homesteaded the future site of Washtucna in 1878 with his wife Alice Lancaster Bassett. Their goal was to raise horses, and until 1900 their ranch was the site of an annual roundup of wild horses. In 1882, the first Post Office in Adams County was established with Bassett as postmaster. The post office was taken over by T.C. Martin in 1894 who then opened the first store in Washtucna. The first rail line into the area was completed by the Oregon Improvement Company in 1886, and shipped 30,000 bushels of wheat in its first five years. Several attempts at large-scale irrigation projects were attempted between 1892 and 1917, but all failed. Dry land wheat farming has persisted since that time. Washtucna was officially incorporated on October 27, 1903, with Charles T. Booth as the first mayor.
Geography
Edit
To the north is Ralston while to the northeast is Ankeny. To the east is Hooper Junction and Hooper. South is Davin, Joso, and Perry. Hatton is the closest town to the west and it is 27 miles away followed by Connell at 33 miles away.
According to the United States Census Bureau, the town has a total area of 0.5 square miles (1.4 km2); all of it land. The elevation is 1,027 feet above sea level.
The town is on the border of Adams County and Franklin County.
Washtucna's climate is warm during summer when temperatures tend to be in the 70's and very cold during winter when temperatures tend to be in the 30's.
The warmest month of the year is July with an average maximum temperature of 88.10 degrees Fahrenheit, while the coldest month of the year is January with an average minimum temperature of 25.30 degrees Fahrenheit.
Temperature variations between night and day tend to be relatively big during summer with a difference that can reach 30 degrees Fahrenheit, and fairly limited during winter with an average difference of 13 degrees Fahrenheit.
The annual average precipitation at Washtucna is 10.41 Inches. Rainfall in is fairly evenly distributed throughout the year. The wettest month of the year is December with an average rainfall of 1.44 Inches.
The last Saturday of each June, the town hosts an auto show and Pioneer Days.
Infrastructure
Edit
The nearest hospital is East Adams Rural Hospital in Ritzville.
The Adams County Sheriff's Office services the area.