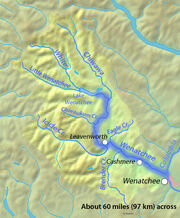 The 
Wenatchee River
 is a river in the
Chelan County
,
Washington
, originating at 
Lake Wenatchee
 and flowing southeast for 53 miles (85 km), emptying into the 
Columbia River
 immediately north of 
Wenatchee
. On its way it passes the towns of 
Plain
, 
Leavenworth
, 
Peshastin
, 
Dryden
, 
Cashmere
, 
Monitor
, and 
Wenatchee
, all within 
Chelan County
.
Tributaries include the Chiwawa River, Nason Creek, Peshastin Creek, and Icicle Creek. Its drainage basin is 1,333 square miles (3,450 km2) in area.
Historically the dividing line between Okanogan County and Kittitas County, the river has been in the center of Chelan County since the county's formation around 1899.
Water from the Wenatchee River and its tributaries has been diverted for irrigation since 1891, mainly for orchards. There are two small dams on the Wenatchee River, the Tumwater Canyon Dam, which sits just west of the community of Leavenworth, and the Dryden dam, a low-head dam situated just outside the town of Dryden. The Tumwater Canyon Dam originally provided power to the original 2-mile (3.2 km)-long railroad tunnel used near Stevens Pass to get trains across the Cascade Mountains, it was later (starting in 1928) used to power the railroad's electrification from Wenatchee to Skykomish.
Ad blocker interference detected!
Wikia is a free-to-use site that makes money from advertising. We have a modified experience for viewers using ad blockers

Wikia is not accessible if you've made further modifications. Remove the custom ad blocker rule(s) and the page will load as expected.