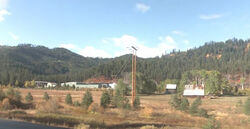 Winton is a community in Chelan County, Washington and is located right off Highway 2 in the Wenatchee National Forest. Leavenworth, the nearest town with amenities is 15 miles southeast of Winton.


Established in the late 1800's to early 1900's as a flag stop beside the railroad track, Winton became a thriving community. The community died when the Winton Mill closed down.

The old and once busy railroad depot was physically moved away from the line into a nearby field. The Winton School, a classic red, single roomed school house is now called the Beaver Valley School, has been converted into a community center, and used for after school activities. A new school has been built next to it. The original school house burnt down between 1921-1925, but was rebuilt in a similar fashion.
The Winton Mill and railroad were the main job draws to the town, as well as the Longview Fibre Mill up north. The main road through Stevens Pass had was Winton Road. The town was clustered along the train tracks, by the rail depot and between the Winton Mill.
Geography
Edit
The community is located along Highway 2. Mainly all that can be seen is a barn, and a few homes, and a large warehouse and the closed Winton Mill. It is surrounded by the Wenatchee National Forest and the Cascade Mountains. It is located northwest of Leavenworth.
Infrastructure
Edit
Health Services
Edit
The nearest hospital is in Leavenworth.
The Chelan County Sheriff's Department substation in Leavenworth handles calls to Winton and the surrounding area.